Children's fashion: mix & Match at Indian Blue Jeans
In a little while and the summer is coming. Your children still fit their clothes from last year? Or should you shop. Online shopping is of course great at this time.
So your children are still looking for clothes for the summer? Then take a look with them on the site of Indian Blue Jeans.
Mix & Match Metindian Blue Jeans
Also this summer Indian Blue Jeans has great new items. "Mix & Match "is the concept for this season. Make the hippest combinations & Shine All Day! Both boys and girls can indulge themselves with the new collection of Indian Blue Jeans.
Fashion for the young ladies
Girls This is the Real Deal
Young ladies can shine again this spring and summer in this sporty keyboard from Indian Blue Jeans. Go for a relaxed and sporty look and combine the red hoodie with a black flare pants. But do you go to a party?
Then the floral glitter skirt is completely great!. Inspiration from the Far East plays a major role in this theme. Namaste!
Rooaarrr!
Ready for a new adventure? Then the ladies are in the right place with the prints of this theme. The basis of this theme are the Zebra Print and an exotic jungle print. The color Sunny Yellow plays a major role in this. Wear one of the gray jeans with a yellow shirt and finish your look with the Zebra Blazer.
More in the Party Mood, go for that hip jungle dress. Welcome to the Jungle!
Tropical Adventure
Or are you more a fan of the Indian Blue Jeans outfit with stripes and snake prints? mix & Match with different items and be surprised by the SKUTS collection. Or how about the sand -colored paperbag with a short sleeve with snake print.
Time to chill
Love Sporty more & classy? Then choose flowers or hearts. Really completely Summer proof!
For a sporty look you steal the show in one of the items in the color Bright Coral, combined with a sporty jacket and cool jeans shorts. And all eyes on you when you choose the dress with heart sprint.
Fashion for the young men
Chill out boys!
With the fresh colors and comfi fabrics that are used in this theme, your day can no longer go wrong. The color Bright Lime is central and combined with Fresh Red and Pepper Green you make the flash! The zigzag, camo prints and cool artworks make the difference. Wear that hip white hoody with lime artwork together with cool jeans and your look is completely finished.
Wanna make a statement? Go for that sweat blazer combined with one of the cool tees.
Stay on track
What a nice theme this is! A theme of Indian Blue Jeans that shows themselves with tough checks, hip prints and vertical lines. Or how about a high fashion sports jacket with matching jog pants?
This theme also includes cool photo prints and colorblockings. Never a dull moment!
Mix & Match
Mix & Match is completely with this collection of children's clothing: the Cargo Jog Pants & Short is this season's must-have and tough to combine with one of the tough T-shirts. The fresh color green and yellow ensure a hip summer look. Indian Blue Jeans has nice polos and T-shirts and a wide range of jog and jeans shorts.
If it becomes a bit fresher, then you put on that cool hoody or sports jacket.
Listen Up
Do you dare? Tough snakes- & Panther prints are the trend at the moment. In this theme, the colors black and army are combined with neon orange and white.
We also see a hooded T-shirt and long sleeves with tough details such as jacquard ribbings to sleeve and neck, rubberized zippers and reflective prints added this summer season. These are the fashion items for this summer.
Stay Tuned with these neon colors
At Indian Blue Jeans you will also find neon colors this summer. With the fresh colors and prints you make a statement with this theme this summer. Camo and palm trees are indispensable. Have you already scored a cool swim short?
They are available in all colors.
Denim for boys and girls
The new summer collection of Indian Blue Jeans is full of cool items. Of course they will again come this season with a wide range of washes and fittings, but they also respond to the trends of the moment. For the ladies this season, in addition to the famous Flare Fit, Indian has a new model; The Joy Flare Fit.
This is a slightly wider flare. This season also has a few trendy new prints. And of course the shorts with stripes and checks should not be forgotten!
With the boys we see the Andy Flex coming back. We also see the tapered fit and this season has an even more cooler outlet. The Jog Denims should of course not be missing for the Comfy Days.
And a denim short from Indian is a glove this summer, with a slightly narrower fit on your legs this season.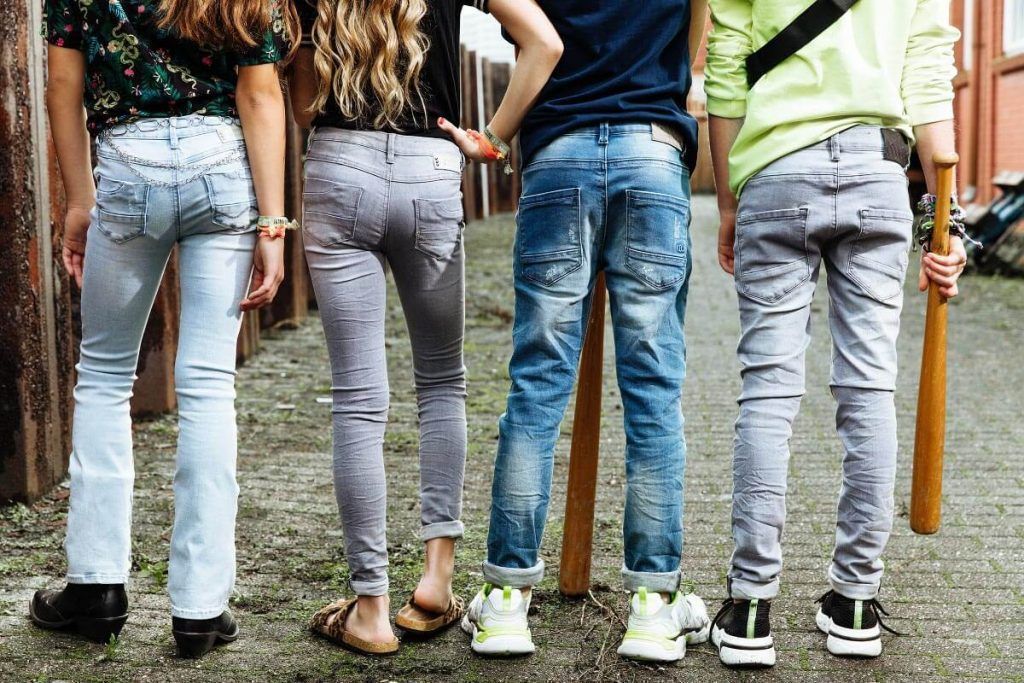 Attention to sustainability
Indian Blue Jeans also thinks of sustainability and therefore has various items from Organic Cotton. And as you know, washing jeans costs a lot of water. Indian Blue Jeans will collaborate with factories that are going to invest in new machines. With these new machines it is possible to save 50% water from the old washing process.
Lord we go!
Look for the entire summer collection on the site of Indian Blue Jeans. Stay Safe, Stay Home and Shop Online!