Your place in the living room
Of course the boys both have nice bedrooms, but they prefer to be downstairs in the living room. It happens more and more that we have no room left. Time for a solution.
What do you need for a place for the kids??
Your own rooms
The boys are getting bigger, which is why we took care of their rooms last year. Well, the oldest is lucky because he has the master bedroom, but the youngest has to make do with a smaller bedroom. To make his room a bit more practical, he got a loft bed, with a desk under the bed.
It has really become his place and they love to build with Lego or play with Playmobil.
Making his own place in the living room
Despite having a nice bedroom, they prefer to be downstairs in the living room. I get this. I used to prefer sitting downstairs with my parents too. When they were younger, the boys had their own place in the living room, with cupboard, playmat, and craft table.
The playmat and table went away, but even now there is a closet in the living room entirely for their toys and stuff.
Where to put in the living room?
I noticed that they were actually looking for a place of their own, where they can sit quietly, read, learn and play games. I took a look at the site of the online furniture store Emob and immediately noticed the diversity of the articles. You can go here for the living room, bathroom or nursery, among other things, but you can also find many accessories for the home,There is not a little choice, no, the choice is very large.
For some time I was thinking about what I wanted to do with the living room space. For 'their closet' is space enough where they can chill and how better to do that than on a few beanbags.
How do the beanbags sit
They arrived the day after I ordered them. In two big boxes. The boys' first reaction when they sat down was 'i love it!' That was clear. They may come in large packs but they don't weigh anything. Ideal, because when we play a game at the coffee table, they just pull out their beanbag and join us.
Normally the beanbags are in front of the heater, next to their toy closet. The bag can be put upright, then you automatically sit up straighter or you can lay it flat and then you really sink into it, they love that when they read. They really made their own place.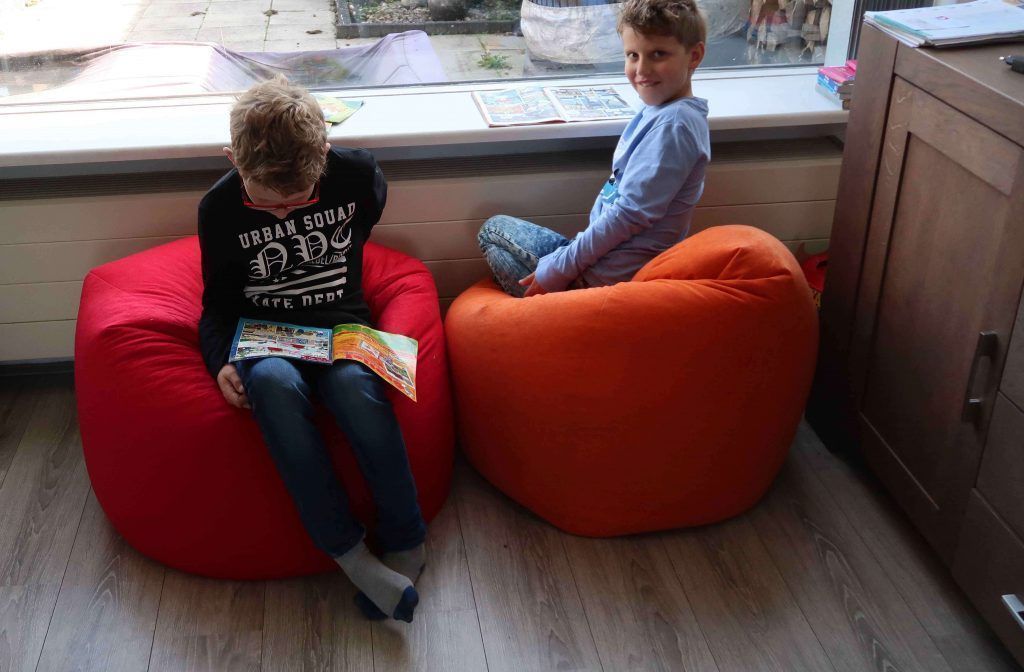 They also look nice
Not only do the boys love to sit on their beanbag, it's nice that they now keep their toys and reading books in their own corner as well. The beanbags look nice and cozy in the living room too. And do the boys get bigger and want to chill in their room.
Then they take the beanbags upstairs nicely.