Hubelino Pi starter set- build your own marble track
Do your kids love a challenge? Can entertain them for hours with LEGO or construction works? Then the Hubelino Pi Starter Set might also be something for them!
With this set you build your own marble track and it is great to combine with LEGO or an extension set.
A marble track from Hubelino
A marble track, who hasn't played with it. Although the marble tracks in my day were not as super as these modern tracks. Hubelino know more marble beacons as well as games or individual blocks.
The Hubelino Pi starter set is for 8+ and expandable with other Hubelino Pi sets, as well as combine with other blocks like LEGO.
What does the Hubelino Pi Starter Set consist of??
With the Hubelino Pi Starter Set, kids can build and play for hours. Not surprising when you consider that this set is 214 pieces. This starter set contains all the elements you need to make a giant marble track construction, namely;
92 track elements in different shapes and variations
116 construction elements for and stable construction
2 square base plates, can be used on both sides
4 steel marbles
Instruction booklet with clearly illustrated step-by-step construction instructions
Complicated tunnel systems
The starter set combines all the tricks of the Hubelino pi marble track system: you have complicated paths, intricate tunnel systems, action-packed jumps, clever constructions and the ability to make the marble's journey even more exciting with turnouts and crossings. With the many different components you can very easily create new courses by making small adjustments to change the course of the marble.
Getting scientific going
By constantly shifting the marble track, building it differently, adding a turn or a switch, children will learn how the basics of physics work and how to make their own scientific track. What about speed, gravity and why does the marble fly out of the curve here but not at the other curve??
Expand with other building blocks
What is also nice about this starter set from Hubelino Pi is that you are never finished. The marble track to namely combine with both common components from other manufacturers, such as LEGO, but also other sets from Hubelino. Curious about Hubelino?
Click here for all sets.
Stimulate creativity, logical and spatial thinking and fine motor skills
Hours of fun for the boys here at home with the Hubelino Pi Starter Set. They have already built several tracks, including those in the instruction booklet, with each construction they make sure they use all the components and discover not only which track is the fastest, they also learn what is not possible, too steep turns or tunnels that do not run smoothly. They have a lot of fun building, but also racing.
It's fun that they can combine this Hubelino Pi set with LEGO which allows them to put their imagination to work tremendously!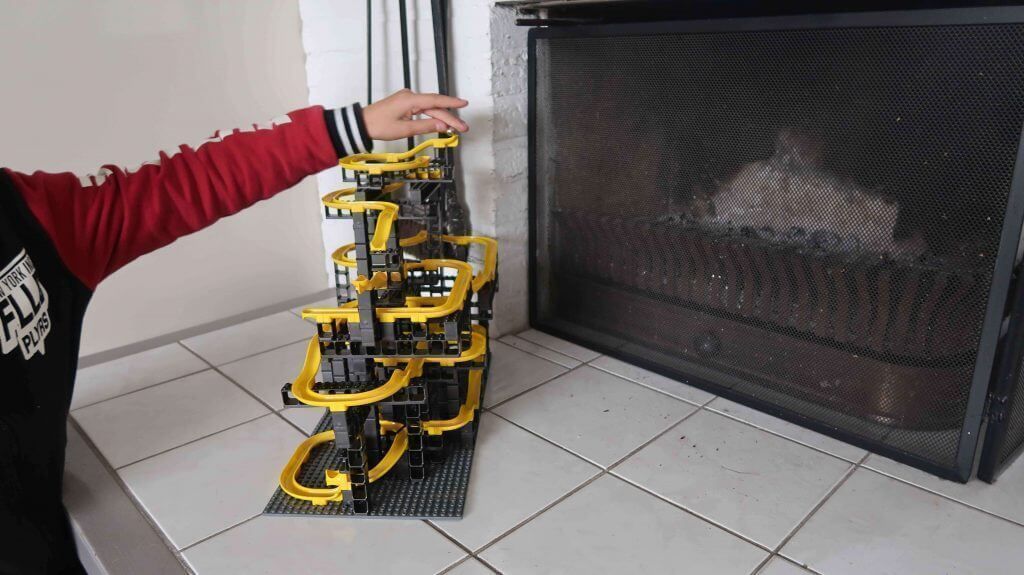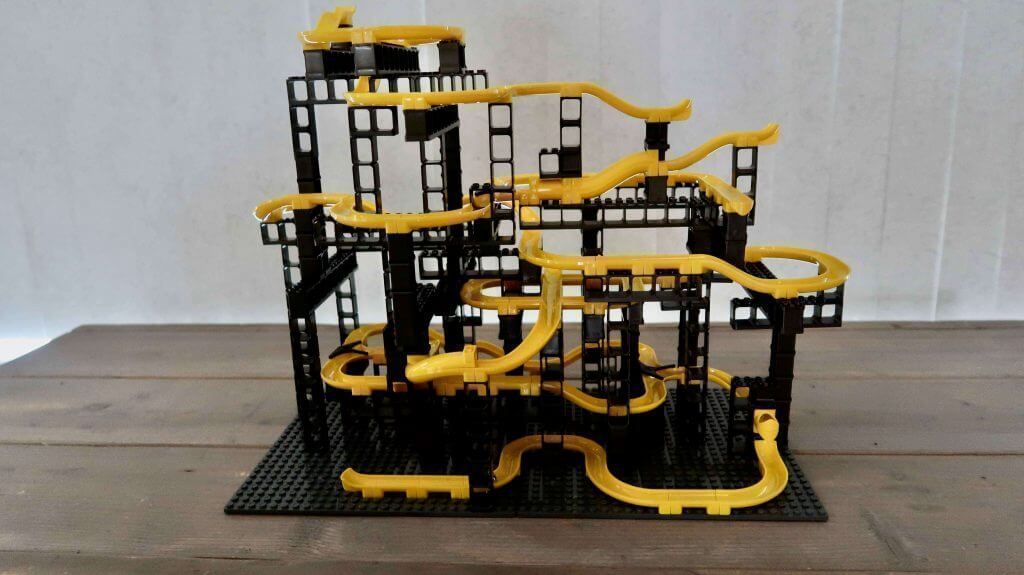 Hubelino Pi Starter Set is super fun toy and not only building is a challenge, but making the marble track run in such a way that your marbles break a record is also a challenge. This starter set is for ages 8 and up+. More from Hubelino can be found here.