Get into the spring mood with a spring party
Slowly but surely I am getting into the spring mood. It is already February and the days are getting longer again. I can't wait until spring breaks loose and we can have a nice spring party in the garden.
Getting together under the party tent, having a snack and a drink and enjoying spring.
Reason for a party
So then I hear you thinking, what's the reason for that party? Actually I have no other reason than to celebrate spring and just be together with family and friends. Just because I can.
To give it just a little more reason I can of course link it to my birthday. It's in April and a spring festival is fitting for it. The temperature is often pleasant by then and if it splashes a bit we just crawl under the party tent together. If I don't want to celebrate my birthday, my sister will return from her internship in Curacao in April, so I can throw a spring party for her as well.
You hear it, I can think of plenty of reasons to throw a cozy spring party with family and friends.
Also for the kids
Since I like a good preparation, I am already brainstorming a bit about the content and decoration of a spring party. The party should not only be fun for us, the big people, but the children should have fun too. Although kids don't really need that much at all to have a fun day.
Luckily, we are lucky that our garden lends itself perfectly to a spring party. It is spacious and already has some entertainment for the kids. With a trampoline and a playhouse, you don&#8217t really need much extra's to keep the kids happy.
A small picnic table under the party tent with some coloring pages and pencils finishes it off. Just add some nice lemonade from a big jug and some tasty snacks and the kids won't hear a peep from me.
Dutch weather
The only thing that always worries me is the Dutch weather. There have been years when you could lie on the beach in April and years when you could put on your woolen underpants. I especially hope not to experience the latter again, in April it's spring hear weather gods.
So to be able to continue our spring party I make sure there are enough hiding places and warmth. We have a veranda in the garden where we often put up a party tent for a party. This way we enlarge the area where you can sit and stand dry and actually it's also very cozy.
My in-laws bought a super handy party tent years ago, an easy up party tent. In a few minutes it will be upright, so even if it suddenly starts raining you will have a dry spot in no time. We regularly borrow these when we throw garden parties.
With a nice lighting string and some candles we brighten up the party tent a bit more and this way our porch and the party tent also look extra cozy.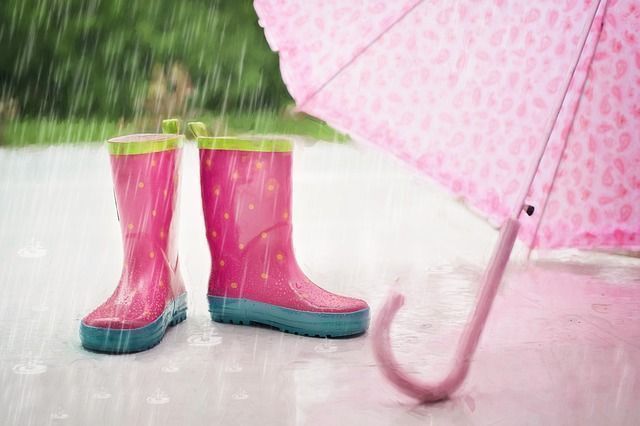 A snack and a drink
If the weather cooperates, if the party tent is up, if the lights are working and the entertainment for the children is ready then only the most important thing remains. A snack and a drink. I love delicious appetizers immensely but I don't like to make them. Very bad but I'm at a party of convenience.
I would happily outsource the care of the snacks. I will be happy to fill some bowls with a nut, some fruit and a chip. But you won't find me slaving away before and during a party to provide snacks while the rest of the party goes wild under the party tent.
Too bad. Luckily you have great catering service for that or just some helping hands.
A drink though, I'm very good at that. A glass of wine here, a cocktail there, I love it. No lack of drinks at our spring party.
A pile of ice cubes in a large zinc tub keeps the drinks cool and also adds a cozy effect. On a table near the marquee there are some glasses, snacks and napkins and the party can begin.
I can't wait already. Bring on the spring.
Can't you wait for spring??
♥ ♥ ♥ Fulltime Mama uses affiliate links. This means that if you click on one of the links, we may get a small commission on it. It costs you nothing extra, but it does give us something in return.
With these proceeds we can maintain this website. We also sometimes get paid for an article or receive a product in exchange for a blog post. Our opinion remains unchanged and honest. For more information, please read the disclaimer. ♥ ♥ ♥